Custom Coat of Arms and Crest Design Services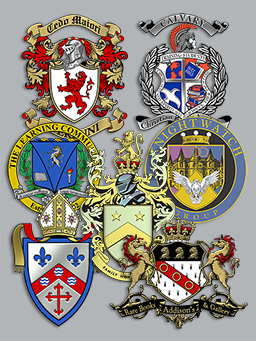 Basic Custom Design: US$ 150.00
Fairly Simple
Very Little Original Artwork
US$ 50 Deposit; Balance On Approval
For custom designs that are fairly simple, using our own, extensive collection of heraldry artwork with very little original artwork. We can change colors, text, orientation (i.e., the direction the element/animal faces), and make minor modifications to our artwork. If you want us to use a particular piece of art that we don't already have, this would bump the design up to the next level unless you can provide that art in true vector format, i.e., EPS, AI, or CDR.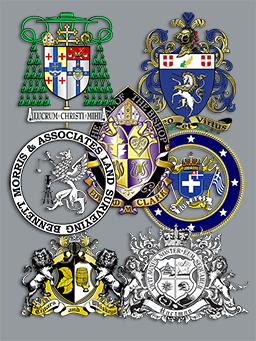 Deluxe Custom Design: US$ 225.00
Some Detail
Some Original Artwork
US$ 75 Deposit; Balance On Approval
For custom designs requiring some original artwork and/or have a degree of complexity such as more than four quarters in the shield and numerous elements. We can recreate one or two pieces of artwork that you send to us in vector format so that the artwork can be used in your new design. If you can provide artwork in true vector format, i.e., EPS, AI, or CDR, that will save you some of the expense.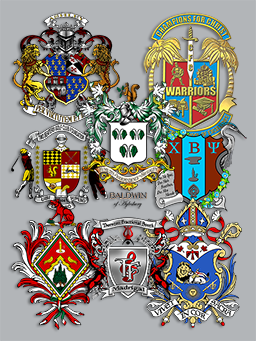 Premium Custom Design: US$ 295.00
Complex and/or Detailed
Substantial Original Artwork
US$ 100 Deposit; Balance On Approval
For custom designs requiring a substantial amount of original artwork and/or are very complicated and detailed. We can recreate an entire historical design in high resolution and vector formats so that the artwork can be used for a variety of purposes. We can also create a unique mantling, helm, banners, shield shape, etc. in this category. If you are not sure which category your design falls in, you can request a quote and/or send us some examples.

For All of Our Custom Coats of Arms, Crests, and Logos...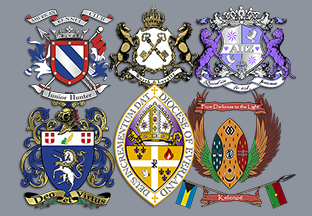 ...this is the what you receive:
All our designs are vector, meaning that by their nature they are high resolution -- and they can be enlarged without losing resolution. If you request a Photoshop enhancement, such as an embossing effect, your embossed design will not be vector, but you will still receive the underlying artwork in vector format.
How It Works
Give us a description, a list of symbols, a list of values that you want represented in your design, or send us a drawing of what you have in mind. We will set up a web page just for you to view the design, and then you can give us your requested changes before the final product is delivered. One revision is included in each order; additional revisions (within reason) are US$ 20.00 each. We offer your final design in several computer image formats, i.e., JPG, EPS, PNG (both vector and bitmap), but you can also specify a particular format. A deposit is required when the order is placed; the balance is due upon approval of the final artwork.
For more information, see "How To Order A Custom Design".
Other Information
Classical or Modern? Embossed or Blended? This may help you decide.
The way the shield is divided is an important design decision!
Keep these guidelines in mind in designing your new coat of arms and/or crest.
Examples of some of the more popular shield backgrounds.
These are the geometric features you see on many coats of arms.
Coats of arms and crests are a great way to symbolize your core values.