How To Place An Order for a Custom Design
Video Description of Our Process
How To Get Started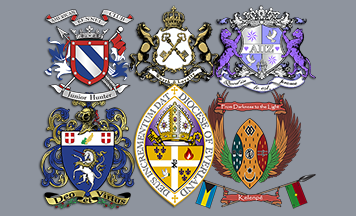 You can start the process in several ways:

We recommend that you review our library of artwork and the symbolism of colors and elements, as well as many of the sample designs we have created for other clients. When you have some idea of the type of design you would like to see...

(1) Use our step-by-step ordering process to submit your order; and/or...
(2) Sketch out what you have in mind and fax or e-mail the sketch to us; and/or...
(3) Send us an e-mail, describing the elements you would like for us to use and the symbolism you want your design to represent.

It would help if you send us some samples of designs that you like (ours or someone else's) so that we get a better idea of the style of design that you are looking for. Likewise, if you have some artwork that you wish to incorporate in your new design, you can send a copy to us, and we will give you an estimate for reproducing it as soon as we can have an artist evaluate it.

Sometimes people begin with the oldest coat of arms on record associated with their name (if there is one), and make changes to personalize the design.

The Cost?

The choice of package depends upon how much original artwork is required, which is entirely up to you. A basic design with very little, if any, original artwork is US$ 150.00 (including one set of revisions). If the design involves more than four quarterings or some original artwork, the cost is usually $ 225.00. A typical Premium custom design, requiring substantial new artwork, is US$ 295.00. Deposits are required: US$ 50 for Basic; US$ 75 for Deluxe; US$ 100 for Premium. The balance is due upon approval of the design.

We will set up a special web page just for you to preview your design, and one set of revisions is included in the original price. Reasonable, additional revisions are available for US$ 20.00 each. We will send your final design to you in virtually any format you wish, but the most common are vector (such as .AI and .EPS) and bitmap (such as .JPG, .PNG, and .TIF).


The Timeframe?
We typically post your first preview in about 3 weeks, depending upon our workload and the complexity of the design. Revisions are usually posted within a few business days depending on extensiveness of the revisions and our workload.

In a hurry? Rush orders are available (if we are not overloaded with other orders at the time) for an extra US$ 45.00. The first preview is usually posted within two or three business days.


The Final Design
The completed design becomes your property. We maintain the design in our database for any future changes or uses you may request. We only reserve the right to use sample designs for promotional purposes, unless you request that we do not use your particular design, which request we will gladly honor.

Please note that a deposit is required before the work can be assigned to an artist. The balance will be charged when you approve the final design.