Re-Drawing Historical Art
We can convert your bitmap image into vector art -- bringing historical art into the present!
If you have lost the original source file for your logo or design, we can also recreate it!
Vector art is required for most modern print and marketing applications. It's more than just a transparent background.
Instead of a "photograph-like" image, you'll have a true vector image that can be enlarged without losing resolution.
The new art will be as close as possible to the original, but please note that there are some
limitations on what can be achieved in a reasonable time frame in vector format. Subtle brush strokes, color shadings,
lighting effects, etc. can only be approximated.
Learn more about Bitmap and Vector Images here.
Examples of Redrawn Coats of Arms, Crests, and Logos
Creating Vector Art from Photo or Drawing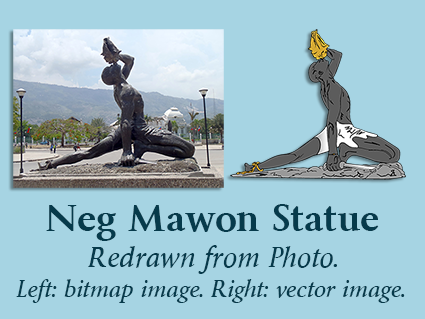 A Unique Photo of a Statue Redrawn
We redrew this statue image to use it as a supporter in a new coat of arms.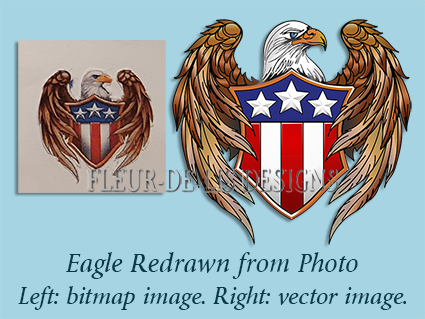 This cut-and-paste image is now a part of the digital world.
Hand-Drawn Design to Computer Image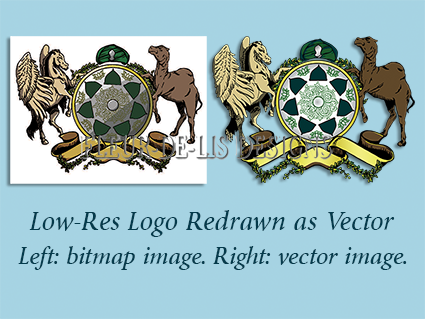 Bitmaps Have Limited Uses
Once vectorized, you can do so much more with your image in a variety of formats.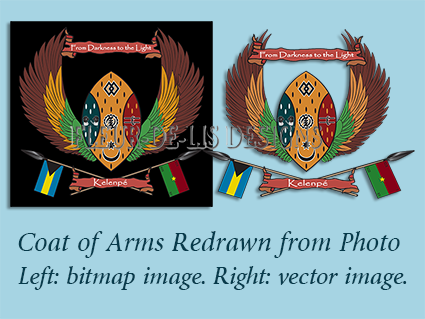 Removing the Background Alone Is Not Enough
To enlarge the image and send it to a professional printer, a vector file is often required.