A Brief History of Heraldry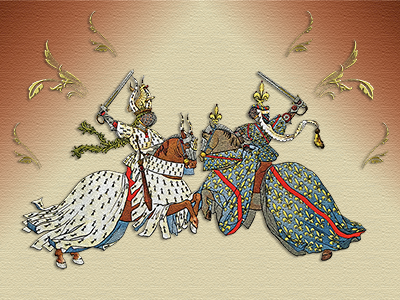 Heraldry has been defined as the art of blazoning, assigning, and marshalling a coat of arms. Its origins are uncertain, but Sir Bernard Burke, Ulster King of Arms, has drawn his own conclusion: "[T]he registry of its birth may be found among the archives of the Holy Wars, ...its cradle was rocked by the soldiers of the Cross, and... its maturity was attained in the chivalrous age of Feudalism."
Between 1135 and 1155 A.D., seals show the general adoption of heraldic devices in Europe. Historians once theorized that a coat of arms enabled a knight to be recognized by his followers during battle. The coat of arms became hereditary just as a knight inherited the right to lead or the duty to follow another leader in battle.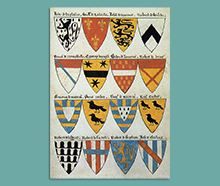 Later historians dispute this theory based on the small numbers of knights who had any followers. "The service due from a military tenant in the feudal system was well-defined. He held his land by service of two knights, one knight, or half a knight,.... A single knight, let alone a fraction of a knight, had no band of followers, so he had no need to identify himself to them." [Source: The Oxford Guide to Heraldry by Thomas Woodcock and John Martin Robinson (Oxford University Press, 1988)] Woodcock and Robinson suggest that it was much more likely that the depiction of arms on a shield was a form of "individual vanity" rather than a practical military device.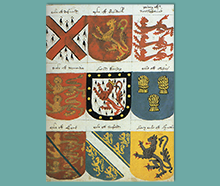 Family Identification
One historian (Beryl Platts, author of Origins of Heraldry) notes that "family identification" was practiced in northern Europe even before the Norman Conquest, and she believes that all heraldry in England is the derivation of the heraldic devices brought by the families who accompanied William the Conqueror.
The oldest documented example of a coat of arms borne on a shield is where King Henry I of England is said to have bestowed on his son-in-law, Geoffrey Plantagenet, Count of Anjou, in 1127 A.D.: the azure shield bore four gold lions rampant. [Source: The Oxford Guide to Heraldry by Thomas Woodcock and John Martin Robinson.]
Regardless of their origins, coats of arms became military status symbols, and their popularity increased along with the popularity of the tournament, which was developed in the mid-eleventh century in France (reportedly by Godfrey de Preuilly). The tournament became a training ground for knights, and its pageantry became more elaborate as time passed. Some knights made their living (and their reputations) roaming from tournament to tournament. William the Marshal and Roger de Gaugi were two such enterprising men, not only excelling at tournaments but extorting ransoms from the families of knights they captured.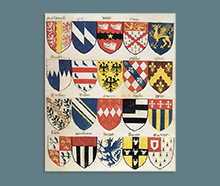 Tournaments
By 1400 A.D., bearing a coat of arms had become a prerequisite to participation in a tournament, and due to the importance of social standing in such pageants, a coat of arms also became a mark of noble status. In the early days, most coats of arms were assumed by the bearers and not "granted" by any authority. King Richard I changed his coat of arms from two lions combatant (or a lion rampant) to three gold leopards (or lions passant guardant).
The earliest coats of arms were fairly simple -- bars or wavy lines, a lion rampant or an eagle displayed, or an arrangement of fleurs-de-lis. The designs became more complex as the years passed, and the practice of quartering (incorporating the arms of other families acquired through marriages) developed.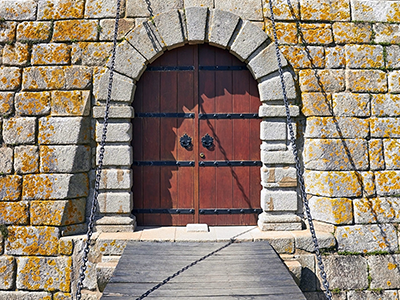 The word "Heraldry" is derived from the German "heer" -- a host, an army -- and "held" -- a champion. The term "blason," by which the science of heraldry is denoted in French, English, Italian, and German, is probably derived from the German word "blazen" -- to blow the horn. Whenever a new Knight appeared at a Tournament, the herald sounded the trumpet, and as the competitors attended with closed visors, it was his duty to explain the bearing of the shield or coat-armour belonging to each. This knowledge of the various devices and symbols was called Heraldry, and as the announcement was accompanied with the sound of a trumpet, it was termed "blazoning the arms." Source: Burke, Bernard, The General Armory of England, Scotland, Ireland, and Wales (Heritage Books, Inc., 1996).
Other Topics
Of course! Please see our portfolio and pick some examples that you would like your design to emulate.
Color and detail in a digital design can look very different when converted to an embroidery format. Please see our web page about embroidery services: Embroidery
This is called "hatching" and was used by jewelers and other artists when color was too expensive to use or unavailable.
What is Hatching?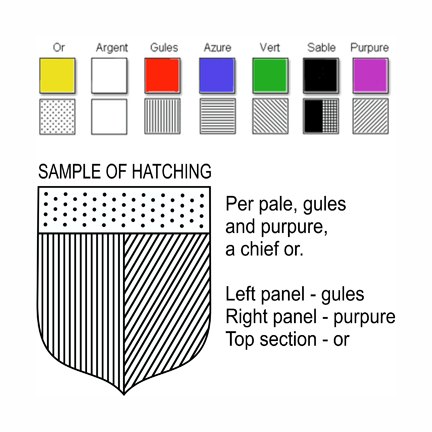 "Hatching" is the term for representing the colors of a coat of arms in black and white. This was necessary when color printing was excessively expensive.